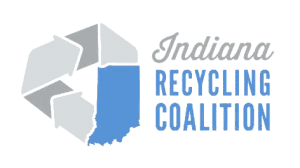 FOR IMMEDIATE RELEASE
For more information contact:
Allyson Mitchell, Executive Director
Indiana Recycling Coalition
(317) 632-5915 x202
allyson@indianarecycling.org
June 3, 2020
INDIANAPOLIS, IN – In 2019, the Indiana Recycling Coalition partnered with Purdue University Environmental and Ecological Engineering Program to produce an in-depth study of the recycling infrastructure of a 10-county region in Northwest Indiana.  This work was funded by a grant from the Wabash Heartland Innovation Network Regional Cultivation Fund. The study zeros in on residential recycling activities via remote recycling drop offs, curbside collection programs, and public and private recycling centers in the region.
Over the course of 10 months, the Indiana Recycling Coalition (IRC) engaged with the Indiana Department of Environmental Management (IDEM), six (6) solid waste management districts, 18 municipalities, six (6) private recycling centers, multiple materials recovery facilities, and public and private haulers to better understand the regional recycling infrastructure.  Topics studied included education efforts, contamination, access, material flow, programmatic challenges, and investment opportunities.
In addition to key findings within each topic studied, over 45 region-specific recommendations were compiled along with a short list of the top 13 recommendations that arose from a prioritization process.  A few included in the short list were: invest in connectivity assets for all SWMD recycling centers; standardize, label and increase the size of all curbside bins; rebuild and expand local recycling center, Werner & Son; target and expand collection of polypropylene and aluminum cans; pursue segregated glass drop offs at SWMD recycling centers; develop food waste diversion programs; and convene to map out the regional recycling system's circularity.  A full list of the project's recommendations can be found HERE.
"The project was an enlightening process, both from collaborating with our partners to develop methods of data collection and from analyzing and understanding the results of that data. We are excited about the recommendations within this report and the ways in which this effort will continue to impact future studies and investments in Indiana's recycling industry and the greater circular economy," says Allyson Mitchell, Executive Director of the IRC. "We hope the analysis and resultant recommendations will spark conversations which lead to informed solutions for Indiana's recycling system – solutions that build upon the intimate knowledge held by regional stakeholders, leverage local talent, and renew a sense of vitality and connectedness with recycling programs," says Emily Jackson, project lead.
"Purdue has appreciated working with a team making tangible impacts on the health and resiliency of Hoosier communities by exploring more circular recycling systems," shares Kendrick Hardaway, Purdue Ph.D. student and project partner.  Both the IRC and Purdue hope that the investment ideas proposed garner the interest of local, state and national funders like the WHIN Regional Cultivation Fund, IDEM's Recycling Market Development Grant Program, The Recycling Partnership, and others.  You can read the FULL REPORT HERE  and view the project website HERE.
###
ABOUT THE INDIANA RECYCLING COALITION
The mission of the Indiana Recycling Coalition (IRC) is to strengthen the circular economy in Indiana through waste reduction, reuse, recycling and composting.
The IRC is a statewide not-for-profit, 501(c)(3) corporation representing concerned citizens, state and local government officials, business, industry and environmental groups since December of 1989. We focus on uniting Hoosiers in waste reduction, reuse, recycling and composting in order to preserve our communities for future generations. We educate and advocate to inspire individual Hoosiers, businesses, institutions, and state and local governments to think and act beyond recycling and towards a more circular economy in Indiana.
At the IRC, we educate Hoosiers about their role in sustainable materials management to empower them to make informed decisions in their daily lives. We convene our members and industry partners to connect them to each other and to the information, resources, and inspiration they need to solve problems and improve our economy and environment. And we advocate at the state and local levels to advance policies that create jobs, protect the value of our resources, and improve the quality of life in our communities. Follow @INRecycling on Twitter, Facebook and Instagram.