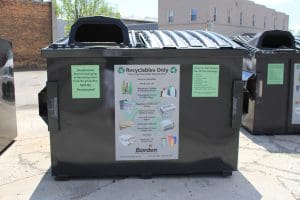 For many years, residents of the District had to spend time sorting and segregating their recyclable materials into categories for drop off at the rural recycling bins. In recent years, the District was able to make some changes to the rural recycling drop-off program and eliminate the need to sort.
Drop-off bins are located throughout the four county District. Residents are able to recycle newspaper, corrugated cardboard, aluminum and steel cans, glass bottles and jars, #1-7 plastics, magazines and paperboard food boxes. These materials can be placed, unbundled, into any of the bins at a drop-off location. Food containers should be rinsed and clear of debris and cardboard boxes should be broken down before being added to the bin.
You may be asking yourself why you can't just leave that plastic packaging, surely it can be recycled with the other plastics. It's important to only leave the materials listed on the bins. When something that doesn't belong is added to the bin, their is a risk of contamination for the entire load. Materials left outside the bins require a clean up crew and extra disposal costs.
A good rule of thumb for recycling: when in doubt, leave it out!