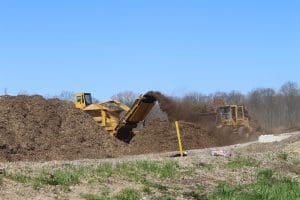 It's summer and you just mowed your lawn after a period of rain and realize you have a lot of grass clippings. Maybe it's fall and your trees have shed their leaves. When you rake up your yard waste, what do you do with it? It may be tempted to rake these materials into a pile and burn them with supervision. While still commonly done with yard waste, the Indiana Department of Environmental Management discourages this practice. The smoke from burning leaves and grass can cause adverse effects for both humans and the environment.
If you can't burn your yard waste, what should you do? Grass clippings can be left on the law to act as a natural fertilizer for your law and leaves and mulch can be ground into tiny bits and used as mulch on your flower beds. Sometimes though, it may not be feasible or practical to leave the materials. When this happens, the Northeast Indiana Solid Waste District can help! The District has yard waste compost lots available for residents to use. These facilities allow residents to bring leaves, grass clippings and brush for disposal. Need some mulch for your flower beds or some compost for your garden? When available, residents can get these materials as well (there are fees for these items).
Have questions about composting? The District Executive Director has extensive experience in yard waste composting and waste diversion. In fact, in June of 2015 the District programs were featured in a guest editorial for MSW Magazine. If you want to learn more about composting programs offered by the Northeast IN Solid Waste District, visit our composting page. On this page you will be able to find our locations and hours and details of this specific program.