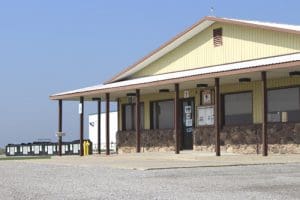 The Northeast Indiana Solid Waste Management District (NISWMD), or District for short, has been around for several years now. Despite outreach programs, publicity and educational campaigns, there is still a lot of confusion over what the NISWMD does. Solid Waste Districts are special units of government that have been given the mandate to reduce the waste stream. The NISWMD takes that mandate seriously and has implemented several programs that work towards this goal.
What programs does the District provide? Let's take a moment to look at the most popular programs and services the District offers.
 

Rural recycling drop-off stations

. These recycling stations are located throughout the four-county area the District serves, are open year round and accept a wide variety of household recyclables.
The Household Hazardous Waste program or HHW program is another highly demanded services of the District. This program operates primarily out of the Ashley office complex and is open to the public on Friday mornings from 8:00 AM until 12:00 PM. Residents can bring unused paint, household chemicals and other items for disposal. There are minimal fees for this program.

Electronics Recycling

is offered during the Friday morning HHW program hours at the Ashley complex. Residents can bring outdated or unwanted electronics to the Ashley office for proper recycling. Some devices will have a small recovery fee.

Yard Waste Composting

is offered at various locations throughout the area the District serves. Residents can dispose of grass, leaves and brush throughout the year. When the holidays are over, live holiday trees can be taken to these locations as well. When available, mulch and compost can be purchased for residential yard needs.
There are many other services that the District offers along with invaluable resources for most of your waste questions. Don't hesitate to reach out to us!