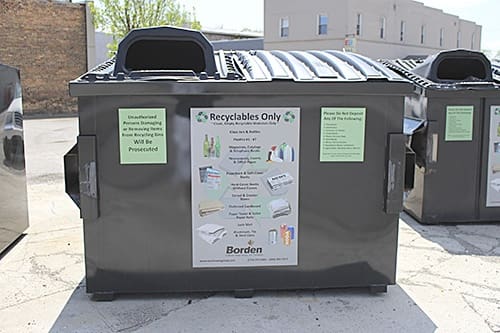 Recycling Drop-Off Locations
The District operates drop-off recycling stations throughout its four counties. These locations offer residents an opportunity to recycle at their convenience as locations are open 24 hours a day, seven days a week.
Recently the recycling program transitioned to single-stream recycling. What is single-stream recycling? It simply means that all accepted items can go in the same bin. No more sorting! Accepted items include:
Aluminum and Steel/Tin Cans-soft drink and beer cans, fruit and vegetable cans, aluminum foil, pie or dinner trays. Please rinse free of debris
Glass bottles and jars – remove lids and rinse free of debris
Plastic bottles labeled #1 or #2 – Typically milk jugs, water bottles, soda bottles and detergent type bottles. The bottom of the container will be labeled with a #1 or a #2. Remove lids and/or pumps. Rinse and flatten.
Cardboard and Chipboard – Cardboard boxes and packaging, food cartons, shoe boxes, tissue boxes, etc. Please flatten.
Newspapers and Magazines – Items can be bundled in PAPER bags or remain loose before placing in bin
Household batteries – household batteries can be placed in the designated and labeled box. Household batteries include standard, rechargeable and button batteries. Please do not leave car batteries or PowerWheel batteries.
Drop-off Locations:
DeKalb
Auburn – 19th Street at the Highway Department
Butler – Street Department on Depot Street
Garrett – N. Cowan Street – parking lot of Garrett Recycling Center
Noble
Albion – Behind the County Highway Dept
Avilla – Water Department on 4th Street
Kendallville – Street Department on Weston Avenue
Ligonier – US 6 just west of SR 5
Rome City – Street Department on Kerr Avenue
LaGrange
LaGrange – LaGrange Convenience Center
Shipshewana – SR 5 at the Police/EMT Garage
Topeka – West Lake Street
Steuben
Angola – Yard Waste Compost Lot at 175 N
Ashley – NISWMD offices
Fremont – Albion and Bell
Hamilton – Town Hall on SR 427 South
Orland – Bunch's Shop Rite